U11 National Club Finals
21/05/18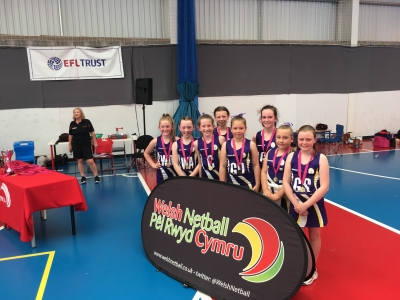 our U11s we're in Cardiff this weekend in the national finals.
The team Lucy Bennett, Taya Evans, Ruby Jones, Lola Rogers, Rhiannon Roberts, Jess Day and Ella McHugh all played their socks off coming third in the group stages and then played Holywell for the cup and plate placings. The girls were unlucky losing by one goal which meant they entered the plate competition.
They went on to play in the quarter finals, then into the Semi and were saved by a final 10 second goal by Lucy which put them into the final.
The final was a nail biter, we were down 2-0 in the first half. The girls then went on after half time with fire in their bellies, and fired through court. Defence and attack all pouncing through the air for the all important interceptions. We then caught up 2-2 with 40 seconds left on the clock and our centre pass. A great centre set up, with a ball straight into the circle and the shot went in, another last second goal by Lucy!
3-2 Mold!!
a brilliant day and such a great experience for the girls in their first national club competition.
great support and commitment from all supporters and parents, thank you!!
Well Done Mold U11s!! Plate winners u11s